Commercial Roller Shades by Hunter Douglas
We love working with architects to explore roller shades' ability to deliver versatile combinations of light control, operation, and style. Available with advanced motorized systems and reliable manual chain- and crank-driven lifting hardware — not to mention a comprehensive range of fabric constructions and colors — our commercial roller shades meet and exceed a wide variety of commercial requirements. Energy Efficiency LEED Rating.
Hunter Douglas RB 500 Roller Shades
The product engineers at Hunter Douglas Architectural took a fresh look at roller shades, taking the best from decades of experience to create the RB 500 system. Features to solve tricky conditions, ensure smooth and quiet operation, and lift oversize shades with motorized, chain or crank operators. Plus, a few hundred fabric choices.
---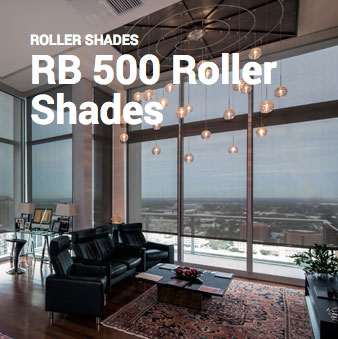 FEATURES:
The key feature of the RB 500 roller shade system is its versatility. Perfect for commercial applications, this modular system allows installation in a wide range of shade sizes and positions.
Heavy-duty metal clutch provides smooth and easy lift capabilities
High-performance fabrics available including E Screen with KOOLBLACK® Technology, and Cradle to Cradle Certified™ fabrics GreenScreen Revive® and GreenScreen® Evolve™
Modular operating system accommodates chain, crank and automated applications
Universal spring-loaded end plug mounts shades securely and provides for smooth and easy installation
Counter balance weight system provides for ease of lifting roller shades over large expanses.
Hunter Douglas Roller Shades FR
Value and performance.
Hunter Douglas Architectural standard roller shade systems provide a solid entry point for value-conscious projects, offering manual chain and crank lifting mechanisms to fit a variety of window types. A comprehensive selection of shading fabrics allows our standard systems to meet performance and fenestration requirements that few others can.
---
FEATURES:
Chain-drive clutch operating system allows precise control to help ensure a uniform look
High-performance fabrics available including E Screen with KOOLBLACK® Technology, and Cradle to Cradle Certified™ fabrics GreenScreen® Evolve™ and GreenScreen Revive®
Dual shades add versatility to any space by allowing two different styles of fabrics to be used on the same window
Warranty: With the reassurance of the Hunter Douglas Limited Lifetime Warranty, you can trust that this product will last and provide added value and beauty to your home.
Hunter Douglas Exterior Roller Shades
Block the heat before it enters.
For maximum management of sunlight, our engineering and consulting teams specify exterior roller shades. Exterior shades intercept glare and solar heat gain before they enter a space, significantly improving overall performance. Our commercial-grade exterior roller shades use the highest performing fabrics available and heavy-duty headboxes, hembars, and guide wires engineered to withstand adverse weather conditions.
---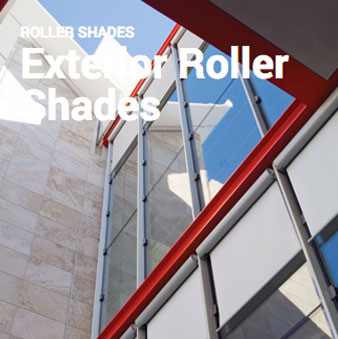 FEATURES:
The key features of the exterior roller shade systems are the heavy-duty headboxes, guide wires, and weather-rated fabrics, which ensure superior performance even in the harshest environments.
Fabrics designed specifically for exterior applications
Full motorization and automation available for raising, lowering, and adjusting the shade
Head box protects the fabric and motor in raised position
Durable roller tube incorporating the motor
Heavy-duty brackets, bottom rail, and side guides engineered to withstand adverse environmental conditions
Hunter Douglas Skylight Tension Systems
A perfect balance of light and shade.
Engineered for peace of mind, our Skylight Tension Shades deliver flat, taut shading panels in a wide range of horizontal shading applications. Consult with us to design a system for skylights, bottom-up applications, or even exterior conditions.
---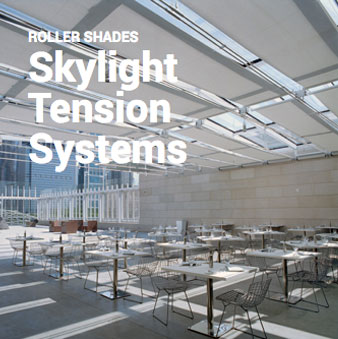 FEATURES:
The key feature of our skylight tension shades is the single-motor mechanism, which reduces system complexity and improves overall reliability.
Innovative tensioning system adjusts automatically to keep shades taut across longer spans
Exclusive single motor drives and motor coupling tension systems reduce installation costs, controllers and wiring
Coupling of two tension systems through a single motor reduces cost
Available dual-shade systems make it possible to create solutions that combine both translucent and blackout shades
Hunter Douglas Sail Shades
Set Sail with Design.
Using compelling swoops, free-hanging "clouds," or unique counterweights, our sail shades establish an aesthetic signature for atrium spaces and skylights of any dimension or height. A selection of durable fabrics control glare and solar heat gain while diffusing and optimizing daylighting throughout an environment.
---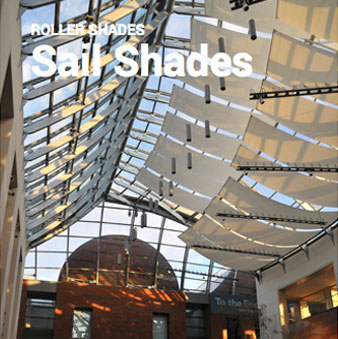 FEATURES:
Engineers create and test the sail-shade systems specifically for the needs of each project. This detailed approach results in a custom solution constructed from proven fabrics and components.
Reduces glare and solar heat gain
Diffuses light and increases natural daylight, depending on application and installation
Engineering expertise ensures effective and reliable shading
Custom engineered for even the largest, most difficult applications
Designed to provide distinct light control and diffusion